ROSE & CARDAMOM | A MIDSUMMER NIGHT'S DINNER
Chefs Sanaz Ebriani and Megan McCulloch of Cherimoya, teamed up to create an enchanting dinner celebrating earth's most luscious season of all, SUMMER. From its vibrant array of colors and textures to the multitude of produce and flavors, the artistic vision was to play with the abundance of the summer season and to convey its charming expression through earthy, sensual and minimalist brush strokes.
The 5-course meal drew upon both of the chefs' love affair with Persian and other Middle Eastern spices, herbs, and flavor profiles such as rose, cardamom and saffron, and harmoniously integrated these aspects with French and Mediterranean culinary technique for adding yet another complex dimension to the dishes.
The conception and design of the meal was very much inspired by culinary visionaries such as Rene Redzeppi, who continue to articulate food's simplicity and elegance by mimicking and emulating nature. By way of happenstance and to much of the chefs' delight, all the dishes visually and thematically pointed towards birds and bird life – as suggested by the dish titles: "Two Chicks in the Garden", "Plumage of Paradise" and "A Bird and Her Jewels".
The chefs also took great measure in carefully hand selecting some of the best peak-season and flavor-bursting produce to be found in August. This was achievable by working directly and closely with the diverse and passionate local food artisans and farmers that the glorious Bay Area has to offer.
Let the images below speak for the vibrancy and creativity woven into each dish, and tell the story of a bountiful and lavish summer…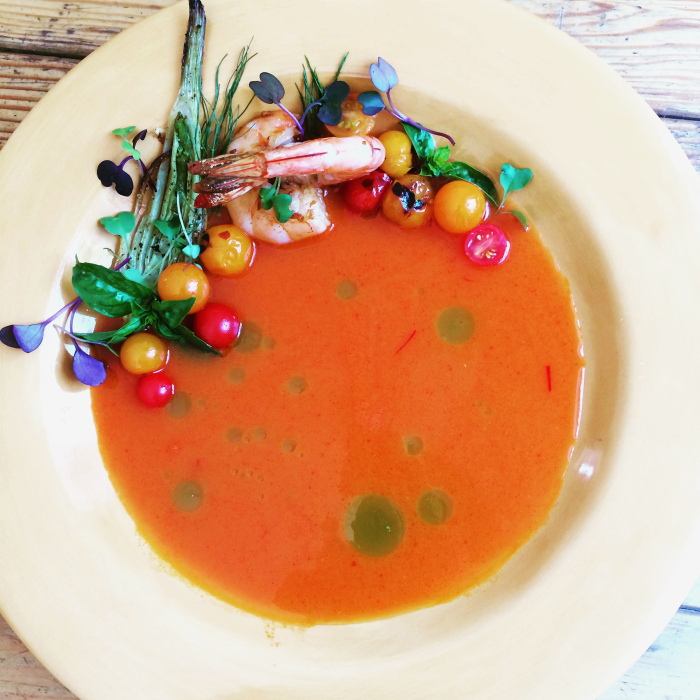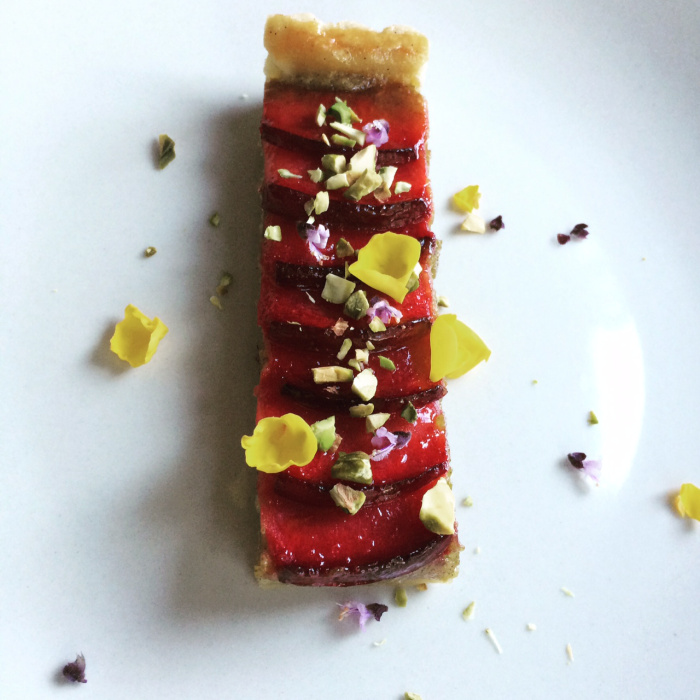 MENU:
SUMMER
A special dinner created for Dr. & Mrs. John Kwan & friends
Course 1 | Plumage of Paradise
Salad of little gems, radicchio, fennel, white peach, radish, preserved lemon, dukkah and goat cheese dusted in pistachio & poppy seeds
Pairing: Bandol - Domaine de la Tourdu Bon, 2014
...
Course 2 | Two Chicks in the Garden
2 sunny egg yolks: hen & quail topped with nigella and curry with a double cream gouda yellow pepper romesco sauce and sautéed purple fiesta potatoes
Pairing: Yves Leccia - Patrimonio Blanc, 2013
...
Course 3 | Warm Sungold Nectar
Pureed soup of sungold and cherry tomatoes, saffron & basil oil with charred tomatoes, garlic prawns & radish micro greens
...
Course 4 | A Bird and her Jewels
Roasted orange blossom quail, black mission figs, over a bed of saffron quinoa, golden raisins, currants and Persian barberries, pink peppercorns and jus.
Pairing: Abbatucci - Rouge Frais Imperial, 2014
...
Course 5 | Rose & Cardamom
Honey punch pluot and vanilla-cardamom pistachio frangipane tart
with rose-water whipped cream and pistachio dust
Served with fresh mint-ginger tea
Featured Local Food Vendors & Farms: Blue Heron, Kashiwase Farms, Happy Boy Farm, Andante Creamery, Strauss Milk Dairy, St. Benoit Creamery, Massa Organics, Little Organic Farms, Full Belly Farm, Iacopi Farm, Paradise Valley Produce, Hands Full Farm Eggs, River Dog Farm, Aarowsmith Farms, Vang Farms, Canvas Ranch, Our own and neighboring gardens, Oaktown Spice Shop (Oakland), The Local Butcher (Berkeley), Kermit Lynch Wine Merchant (Berkeley), Paine Family Farm (Quail)